Description
Health Benefits
Shrimp may have a variety of health benefits. It is high in several vitamins and minerals, and is a rich source of protein. Eating shrimp may also promote heart and brain health due to its content of omega-3 fatty acids and the antioxidant astaxanthin ( 6 , 11 , 12 , 13 )
Citrus Shrimp And Avocado Salad
Citrus Shrimp and Avocado Salad
This simple but totally flavorful shrimp salad makes the perfect meal-prep meal for lunch or dinner thanks to pan-seared citrus-flavored shrimp, creamy avocado, and the crunch of sliced almonds.
Ingredients
1

pound

medium Pan-Seared Citrus Shrimp

(I use 31/40 shrimp)

8

cups

greens

(such as arugula, spinach, or spring mix)

Fruity or lemon-flavored extra virgin olive oil

Juice of 1/2 lemon or 1/2 orange

1

avocado

, sliced or diced

1

shallot

, minced

4

ounces

sliced almonds

, toasted

Kosher salt and freshly ground black pepper
Instructions
Prepare the recipe for the Pan-Seared Citrus Shrimp, or gently warm the leftover shrimp. Or, if you prefer, serve the shrimp chilled.

Toss the shrimp with the salad greens in a large bowl.

Lightly drizzle with olive oil, and if desired, some of the sauce remaining from the shrimp with a generous squeeze of citrus, and toss lightly to coat.

Add the avocado, shallots and sliced almonds and then season with kosher salt and freshly ground black pepper and serve.
Recipe Notes
Use some of the citrus sauce from the shrimp as a double duty dressing.
Or, if you don't have enough sauce for the dressing, simply use a good extra virgin olive oil (I like the lemon flavored varieties) with an additional squeeze of citrus.
Nutrition Facts
Citrus Shrimp and Avocado Salad
Amount Per Serving (1 g)
Calories 374
Calories from Fat 207
% Daily Value*
Fat 23g35%
Cholesterol 286mg95%
Sodium 906mg39%
Potassium 693mg20%
Carbohydrates 14g5%
Protein 31g62%
Vitamin A 982IU20%
Vitamin C 29mg35%
Calcium 256mg26%
Iron 4mg22%
* Percent Daily Values are based on a 2000 calorie diet.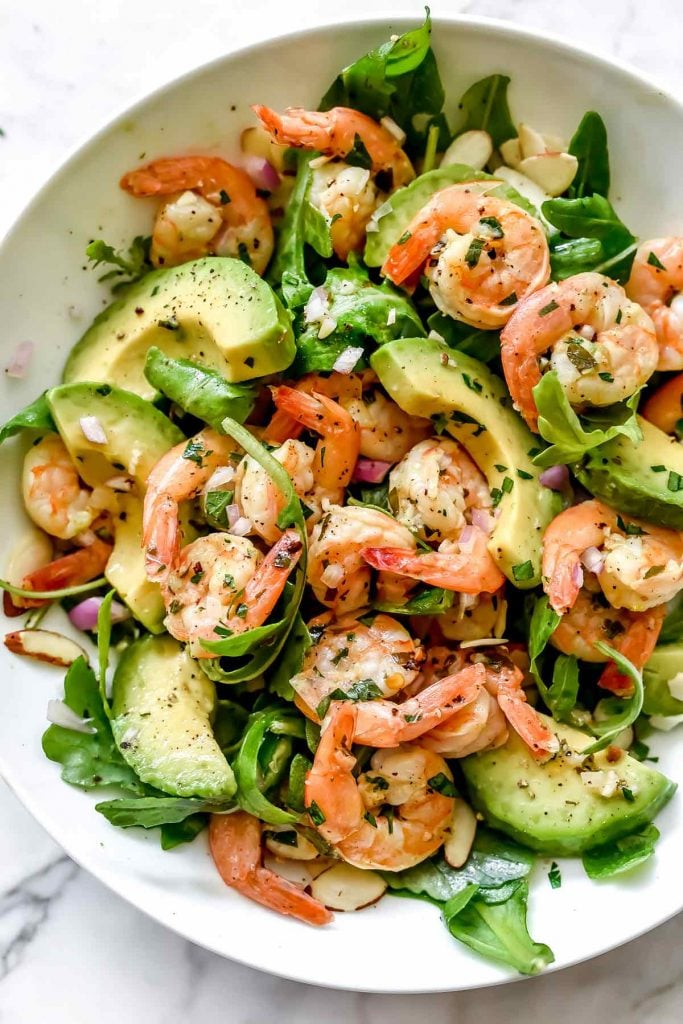 Nutrition Facts
Per 100g
Energy
107.14kcal
Protein
20.54g
Total Fat
1.79g
- Saturated Fat
0.0g
- Trans fat
0.0mg
Carbohydrate
1.79g
- Dietary Fibre
0.0g
- Sugar
0.0g
Sodium
152mg
Disclaimer
While we are working hard to provide the best possible information, ingredients and nutrition facts are subject to change at any time at the manufacturer's discretion. It's always a good idea to refer to the product packaging for the most complete and up-to-date information.
嘉明海產的自家品牌, 產品來源及質素均被嚴格挑選及監管, 獲多間本地高級中式食府或五星級酒店餐廳認可及採用。此外,Ice Diamond另設有品質更優受的Gold Label 系列供零售用途. 所有Gold Label的產品分別獲可持續發展認証(MSC/ASC)或區塊鏈認証(Blockchain Verification), 將環保及優質的海產帶給各位消費者 。引進各類型可持續發展及急凍海產,當中包括 皇帝蟹腳、全殼白蜆、銀鱈魚、青衣柳、南美白蝦及澳洲蝦等等!
產品認證